Improving Your Skin with Ease
Embrace your inner beauty with quality body and skin care treatments by Therapeutic Touch of Brooklyn, OH. We strive to offer you only the finest services for skin and face.
Skin Care Treatments
Deep Cleansing Facials
We use a professional product line. After cleansing and toning we apply a papaya enzyme ointment which exfoliates and unclogs the skin, preparing the pores for impurity extraction. After massaging the face and scalp a mask suitable for clients' skin is applied. This treatment also includes hand, arm, and neck massage.
45 Minute Facial - $50
1 Hour Facial - $65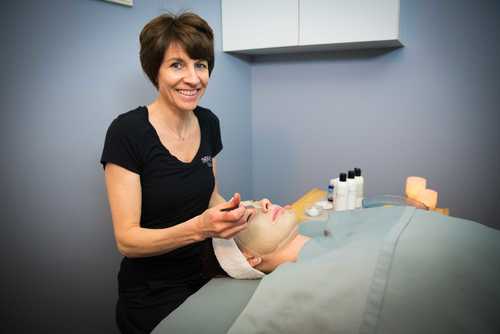 Facials
We at Therapeutic Touch offer a local, professional skin product line from Gabriel Correctives. These fruit based, natural products are scientifically developed and clinically tested. You can feel comfortable knowing they are of the highest quality and will leave your skin feeling healthy and smooth.
Products Used:
Gabriel Correctives
Facial Shampoo
Exfoliating Scrubs
Normalizing Gel Emulsion (Moisturizer)
Organic Vitamin C (Eye Gel)
Exfoliating Body Scrub
This scrub is made with sea salt and extracts of lemon and lavender oil. Enjoy an exfoliating scrub followed by a hot towel wrap and full body massage using deep moisturizing cream made with vitamin E oil and extracts of lavender that will exfoliate and soften your skin.
1 Hour Body Scrub - $65
Sinus Relief Treatment
This treatment uses Olbas Therapeutic Body Massage & Aromatic Inhalant which is made from essential oils, including:
The sinus treatment is a 30 min long steam treatment to the face followed by a pressure point massage to the face, neck and feet to relieve congestion and sinus pain.
30 Minute Sinus Relief - $40
Ear Candling
Ear candling is a procedure designed to remove earwax and toxins from your ears, while also creating a greater sense of relaxation and wellbeing. If you're interested in learning more about the benefits of ear candling, come visit our welcoming spa.
1 Hour Ear Candling - $60
Synergie Cellulite Treatment
That gently combines suction & pressure to release the fluids in the fat cells that cause cellulite. The treatment increases lymphatic drainage & blood circulation to flush the fat cells & reduce water retention. A body suit is worn during the 20 min treatment & a free 10 min trial is offered to those interested.
20 Minute Cellulite Treatment - $30
30 Minute Cellulite Treatment - $50

Aromatherapy
Available upon request for an additional charge.